We work hard to earn your trust and loyalty!
Below are a few specials we want to offer as a thank you.
Be sure to join our customer loyalty program below for even more deals!
BECOME AN "ELITE" UNLIMITED CAR WASH MEMBER AND SAVE OVER $150 / MONTH!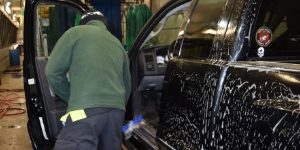 The more you wash, the more you save!
Save over $150 per month on car washes!
EXTERIOR ONLY
Soap, rinse, towel dry.  Fastest service!  Stay in your car!
$22.99
FULL SERVICE
Exterior wash, windows and vacuum.
$42.99
PRO 1
Full service wash, undercoat flush, rust inhibitor.
$47.99
PRO 2
Full service wash, 10-day conditioning wax.
$52.99
THE WORKS
Full service wash, Pro 1, Pro 2, Armour All, Wheel Treatment.  Pays for itself in less than 3 washes!
$62.99
15% OFF OIL CHANGE with the purchase of three additional automotive services
Fuel injection services, air filter replacements, and transmission services are just a few examples of the car care Darien Car Clinic can offer.  Inquire today to see how we can be of service to you!
FREE EXTERIOR WASH FOR LYFT AND UBER DRIVERS with any oil change service
Lyft and Uber drivers get a FREE EXTERIOR CAR WASH with the purchase of an oil change!
BONUS: 10% OFF any automobile service!
* Proof of current employment with Lyft and/or Uber is required.  Call for more details.
ELITE MEMBERSHIP AUTOMATICALLY RENEWS EACH MONTH ON THE SAME DAY OF EACH MONTH OF YOUR INITIAL SIGN UP. AFTER 60 DAYS YOU MAY STOP IN IF YOU WISH TO CANCEL YOUR MEMBERSHIP, AT OUR FRONT DESK. NO PARTIAL REFUNDS ARE AVAILABLE. YOUR MEMBERSHIP IS VEHICLE SPECIFIC. MEMBERSHIP IS PER VEHICLE AND FOR PERSONAL USE ONLY. BY ENROLLING IN THE ELITE PLAN THE MEMBER WAIVES ANY AND ALL RIGHTS TO WITHHOLD OR DELAY PAYMENT OF THE RELATED CREDIT CARD CHARGES.

Sign up for text updates to get EVEN MORE special discounts and offers!